Considering you are reading this blog on the web's top resource for Spin & Go strategy, we're going to assume you're a fan of fast-paced SNG action and have a little added gamble in you. Regardless of how you feel about Jackpot SNGs' impact on the poker landscape, there is no denying that the format has taken over the online-poker world and managed to funnel a sizable portion of the recreational player population to these games. Continuing with this trend, the Winning Poker Network is set to release Sit and Go 2.0 which they hope will revolutionize both online full-ring SNGs as well as introduce the jackpot SNG format to the live poker scene.
From the ACR website:
Sit & Go 2.0, the next evolution of poker! This revolutionary new twist on a traditional Sit & Go offers a product that by design is meant to be just as popular in a live poker room as an online site. As poker popularity is on the decline over the past few years, we believe it's important that land-based and online operators work together to revitalize the poker industry. Sit & Go 2.0 offers land-based operators an opportunity to monetize tournament clientele disinterested in cash games in the downtime before and after events.
How It Works
To learn more about how the Sit and Go 2.0 format, check out the following video and payout example below:
Structure
Starting stacks for the live Sit & Go 2.0 SNGs will be 5,000 chips with blinds starting at 25/50 and increasing every 10-minutes.
The example below breaks down the frequency, probability, multiplier, and prize pool of a $45 buy-in Sit & Go.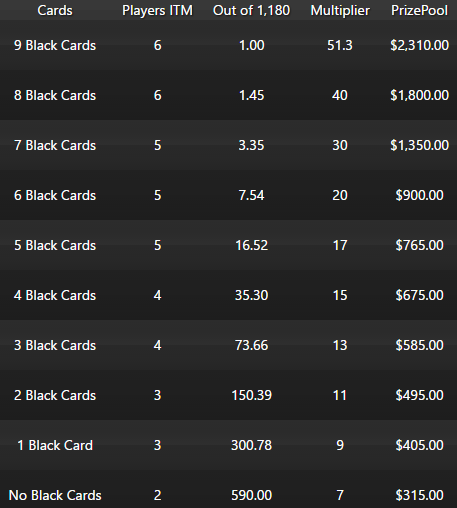 As you can see, not only is SNG 2.0 flipping the game on its head by bringing the jackpot format to the live scene, but the actual structure and payouts of the game are unlike anything else that we've seen before, either live or online. What effect this will have on either scene is still anybody's guess, but Spin And Go Strategy will be getting a first-hand look at the launch of the format at the upcoming Punta Cana Poker Classic, which runs from Oct 25-31st.
Spin & Go Strategy coach Sentin7 will be covering the live introduction of Sit & Go 2.0 on behalf of Spinandgostrategy & UpswingPoker so stay tuned for the trip report where we'll share our first impressions of Sit and Go 2.0.
~~~